International communications group launches in Latin America – Region seen as key area of growth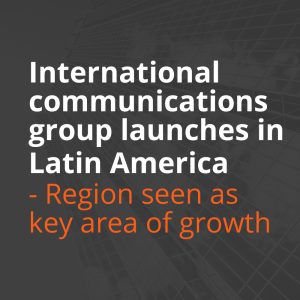 18 December 2017– the International Association for Measurement and Evaluation of Communication (AMEC), has announced it has launched a new Latin American International Chapter to drive home the importance of PR measurement!
AMEC – the International Association for Measurement and Evaluation of Communication – is the world's largest professional body for communications research, media intelligence and insights with over 160 members in over 80 countries. The Chairman of the new International Chapter will be Carlos Diaz, General Manager of GlobalNews based in Argentina. His Vice Chair is Carlos Villa, CEO and Co-Founder at Buho, based in Columbia.
Carlos Diaz said: "AMEC is doing fantastic work to educate PR and communications professionals on the benefits of using measurement in their work and what a difference it will make. "We have a big job throughout Latin America. We are confident however, that we can bring clients and PR professionals with us on our journey. To begin with, existing members of AMEC will become members of the Latin America Chapter. However, Diaz said they hoped PR companies and corporate communications teams would also join. Richard Bagnall, Chairman of AMEC was in Latin America during AMEC's global Measurement Month initiative two months ago. He said: "I came away excited at the voracious appetite of the South American communications market to embrace best practice. AMEC is committed to helping our new Latin America Chapter introduce easy to understand initiatives to help PR and communications professionals prove their value in meaningful and credible ways." Bagnall said he hoped Latin American PR and communications professionals would attend its Global Summit on communications measurement in Barcelona, Spain from 12TH-14TH June, 2018. The AMEC Global Summit is the biggest event of its type in the world with 300 delegates expected in Spain.