Media Measurement Guide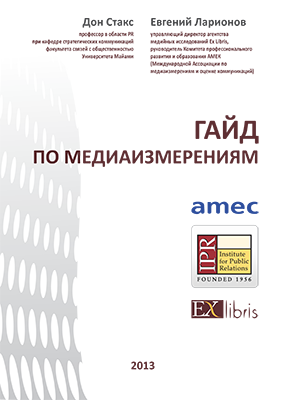 Open Guide
Ex Libris Media Research Agency in association with Don Stacks (IPR), PRCA and ICCO have published a media measurement guide under the auspices of AMEC.
The Media Measurement Guide is a reference book that offers over two hundred currently relevant terms and definitions used in media measurements. It includes terms associated with PR campaigns, mass media, social media, monitoring, analytics, statistical studies, the social graph theory, PR campaign financial KPIs, as well as other metrics and indices used in media measurement.
Getting familiar with the contents of the guide allows navigating today's media analytics with ease, which will be helpful for those whose profession is linked with advertising, media, and Internet technologies.
This version also features several terms that are used in Russia only.